Webinars
Free Webinar – From virtual selling to the real world: A plan to pivot your team for growth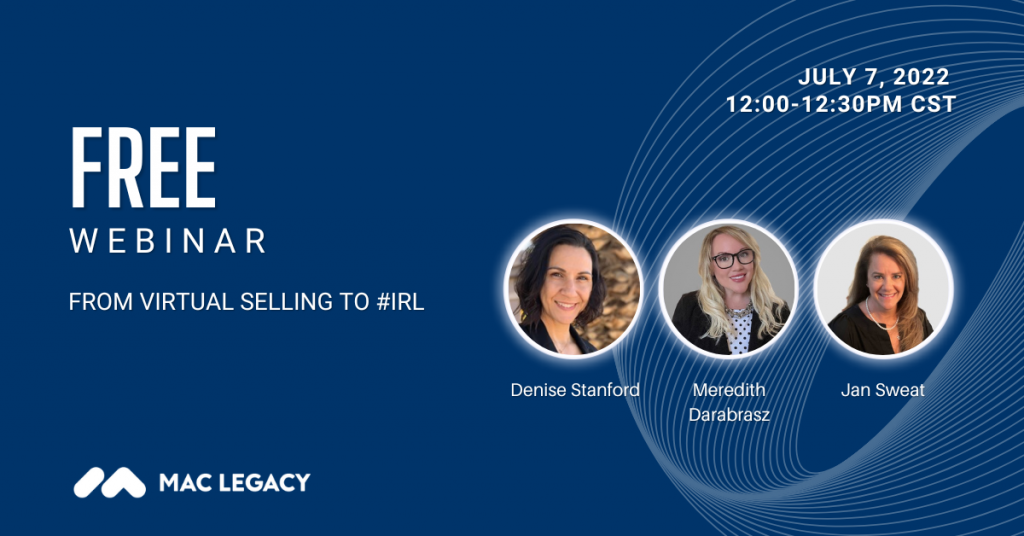 Thursday, July 7, 2022
12:00 pm Central Time
FREE Webinar
MAC Legacy as a CHAP Verified resource is honored to host  Denise Stanford, Meredith Darabasz, and Jan Sweat with CHAP. Spend time with industry experts on a timely topic of virtual selling and growth.
Presenters:
Denise Stanford is passionate about the impact of education and training on quality improvement in healthcare. As someone who has utilized community-based healthcare services for loved ones, she understands the importance of high-quality care and services. Denise personally experienced how education and training can transform an individual's life and the lives of those they touch. Denise has been working as an educator in community-based healthcare for nearly a decade. She greatly enjoys creating learning experiences that engage learners and teach real-time skills that can be immediately applied on the job. Her master's degree in adult learning has allowed her to work on the development of workshops and e-learning for healthcare professionals, focus on training for community members, and serve as an adjunct professor working with first-time college students. In her role at CFE, she helps craft meaningful learning experiences and oversees the operation of the department. Denise is quite the adventurer; she loves learning new things and doesn't believe in having a "comfort zone." She has a need for sunshine, which is why she migrated south from Seattle to Oregon and finally to her home in Phoenix.
Meredith Darabasz is passionate about community-based agencies and that every home-based patient is receiving the highest quality of care.  Her community-based experience has ranged from a clinical nurse case manager, director of operations, and most recently she served as an area vice president of business development.  Meredith has led a large sales team across multiple states through multiple acquisitions and industry leading growth.  Her proven background in operations and business development will help providers grow and improve clinical quality. Meredith received her dual master's degree in nursing leadership and education from Wilmington University and has served as an adjunct nursing professor. In this role, Meredith will take the lead on executive partnerships connecting the largest organizations in community-based care with accreditation, as well as education and training from the CHAP: Center for Excellence. Additionally, she will facilitate and build curriculum for our career-specific certifications.
Jan Sweat found her way to the post-acute care space after spending five years as a hospital case manager and two as a nursing home social service director. Utilizing the services for her patients as they discharged gave her a desire to help patients maneuver safely through the care continuum while maximizing their outcomes.  Jan worked with the largest Home Health, Hospice, Palliative and Community Care company in the US prior to joining CHAP. She has trained over 10,000 associates nationally from business development, operations and clinical. She is a seasoned facilitator and content developer who loves the light bulb moments while she is facilitating.  Jan also has extensive experience with mentoring and leadership development in her career helping associates reach their full potential. In her spare time, Jan enjoys spending time with her family having adventures from kayaking in Cenotes to zip lining in jungles.
$0.00
Decades of Experience
at Your Fingertips